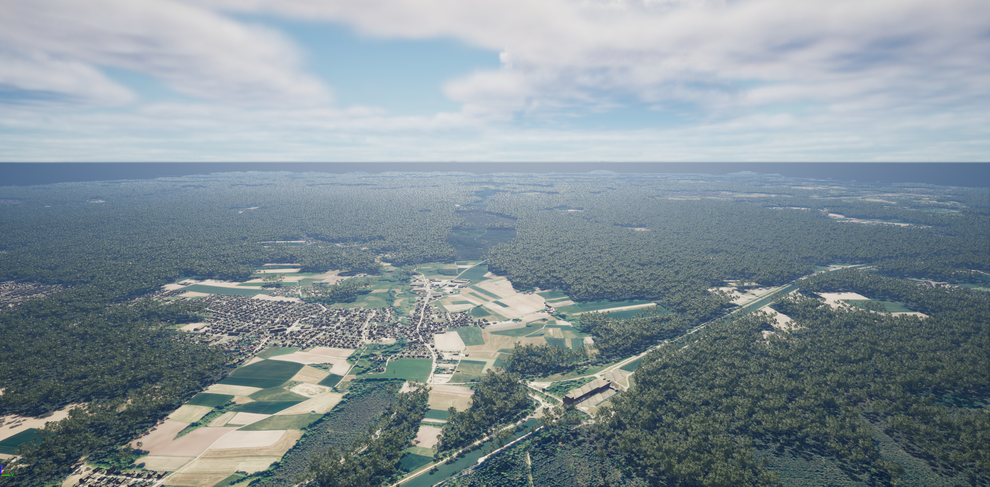 Digital twin of a battlefield to be defended against adversarial drone swarms. 21strategies' GhostPlay system, built with Unreal Gaming Engine.

On 17th May 2023 at 06:00 p.m., Friedrich-Naumann-Stiftung für die Freiheit, Hessia chapter, offers participation of the civil society in an online discussion about Artificial Intelligence (AI) in defense.
Artificial Intelligence (AI) is reshaping our daily lives in profound ways, transforming both technology and society. However, we are also witnessing a paradigm shift in the realm of security and military affairs. The ongoing Ukraine conflict is driving the development of new weapon systems, particularly autonomous weaponry. AI holds tremendous potential in the field of military technologies, ranging from air surveillance and the use of armed and unarmed drones to the advancement of next-generation autonomous weapons. As a result, we can anticipate an acceleration and, potentially, a darkening of weapon technologies.
AI, Bundeswehr and the German society
But what does this mean for the political and societal consensus? The Bundeswehr, as a parliamentary army, operates under the authority of the German Bundestag, with a strong emphasis on the principles of "Innere Führung" and its ethical standards. How will the Bundeswehr's self-perception evolve? Is the fundamental principle of individual soldier accountability still realistic at the rise of autonomous weapon systems? Are we as a society fully aware of the challenges presented by this "double paradigm shift" in the realm of Artificial Intelligence and security policy? And, as a liberal democracy, how do we navigate these opportunities and risks? What "Zeitenwende" really means in yet unclear. Food for thought:
The process of integrating AI into defense operations presents challenges in defining objectives and achieving meaningful change.
Germany's culture of "structural pacifism" (Verbovszky, 2023) emphasizes the acceptance of military power for the sake of humanitarian precision as a key driver for defense AI implementation.
Germany's defense AI strategy is influenced by US concepts and aims to enhance the efficiency and effectiveness of existing military processes.
The integration of AI into military education and training programs is becoming increasingly important.
Further work is needed to define the specific contributions of AI in achieving future capability growth, update defense industrial policies, and establish a framework for certification, qualification, and application of AI in defense operations.
Renowned author, AI entrepreneur and jurisprudent Yvonne Hofstetter, CEO of AI company 21strategies, aims to also support national defense and transform strategic and tactical decision-making. Former Military Bishop of the Protestant Church in Germany, Sigurd Rink, possesses invaluable insights into the sentiments within the ranks and understands the concerns of soldiers and military leadership alike. The conversation of both guests will delve into the complexities of this dual paradigm shift when AI and security policy challenge our world.
Die doppelte Zeitenwende: Künstliche Intelligenz (KI) und Militär – Chancen und Gefahren (in German language).
Friedrich-Naumann-Stiftung für die Freiheit, 17. May 2023, 06:00 p.m. CET