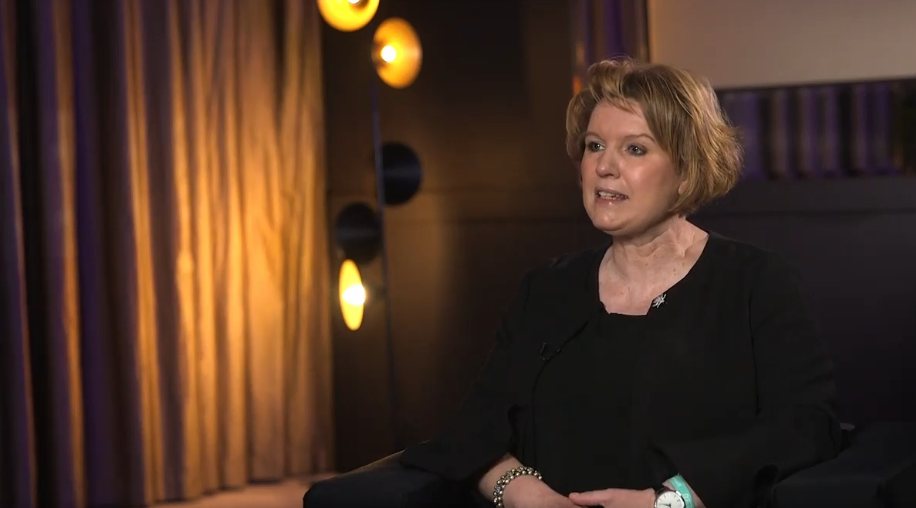 Copyright: Globalive Media

 "Who are technology's top entrepreneurs transforming our world?" asks Anthony Lacavera, founder of Canada's Globalive, in his weekly, half-hour series "Beyond Innovation" for Bloomberg Television. To find out, Lacavera conducts interviews with companies touching their offering and technology, founding story, future plans and market opportunity. In November 2021, it was the turn on 21strategies' CEO and co-founder Professor Yvonne Hofstetter to speak and answer. From 10. January 2022, the interview with Mr. Lacavera on-camera can be watched at all Globalive channels, and at the Globalive Media webpage.
The genesis: Proliferating defense AI back and forth
 When asked about what inspired Hofstetter to start 21strategies, she said that the firm's genesis goes back to the defense research labs of the late 90ies. When governmental defense budgets were reduced after the fall of the Berlin wall, it was Wall Street which absorbed mathematicians and physicists who worked for the defense sector earlier. As "quants", they reigned Wall Street for twenty years until the quant meltdown in the past decade happened. 21strategies' founding team was part of this movement, as it provided AI for the hedge fund industry back then. But when Big Tech started to acquire AI companies from 2013/14 on, also the broader commercial sector understood that AI formerly built for the defense and financial services industry would proliferate to the benefit of other sectors as well. It was Google's AI strategy which finally spurred the broader acceptance of Enterprise AI. When 21strategies' founding team validated that its next-gen AI would serve the treasury departments of large corporates, 21strategies was formed and funded during the first German COVID-19 lockdown in March 2020. One year later, 21strategies became revenue-effective and now seeks to grow.
Next-gen AI computes a recommended decision to mitigate risk
Asked where in an organization 21strategies' AI gives recommendations how to decide, Hofstetter replies that it targets the value chain of corporates and hedging in particular with the aim to protect the EBIT, but also the decision-making of technical autonomy as in AI-powered defense systems. Both the value chain and defense systems have in common that they require to mitigate a risk, while operating in a highly uncertain and unpredictable environment. Hence, the tech stack is identical, says Hofstetter. Next-gen AI is observing its environment through sensors, computes the actual state, compares it with a target state and recommends the optimal action to get closer to the target state. Some subtleties: In both use cases the AI needs to remember what it decided and did earlier – or how it was overridden by a human –, which requires immense computing power, while data might be very sparse.
Man in control: Man in/on/out of the loop
Like any other firm providing AI for full technical autonomy, Hofstetter is being asked about the level of human control. If there were fully automatic decisions made or if the client had to initiate an action against every recommendation? 21strategies is aware of the user requiring to always stay in the driver's seat, says Hofstetter. It is a basic requirement of ethical AI, she adds and points to her role as professor for digitization and society, dealing with questions of ethically and legally compliant AI. At least the question of human control is being always raised in the context of technical autonomy. Deliberately, Hofstetter adds, 21strategies' commercial AI allows human interaction and is "man-in-the-loop". But this could be changed easily, as clients start demanding electronic integration with their existing treasury and risk management systems to decrease human work load.
21strategies competition are global deep tech firms rather than Treasury system Providers
Asked whether large currency trading organizations were competition, Hofstetter is sure that they and their client base would benefit from integrating 21strategies' tech stack. As 21strategies rather strives to provide solutions for the mitigation of economic risk on a strategic level, the closest competition are tech-savvy firms like c3.ai or Palantir. There is one great difference, though, she points out: 21strategies maintains an innovation portfolio and allocates budgets only to the firm's technology assets and their related business cases which promise to become profitable within mid-term. "We do not enjoy burning money for technology that is looking for real-world applications. We rather wonder: In the domains we know well – supply chain, capital markets and defense –, where is it that clients have a problem, can we solve it with our AI effectively and efficiently, and will the market pay for it? Hence, we are output driven, mission driven, and not input driven. That differentiates us within the IT industry. IT should not tell the industry how to make business. To say it more drastically: IT should not tell warfighters how future war will work. Warfighters rather shall tell IT which future battlefield challenges it must solve."
Watch the interview at Globalive Media, Facebook, LinkedIn, Twitter, Instagram, or YouTube.