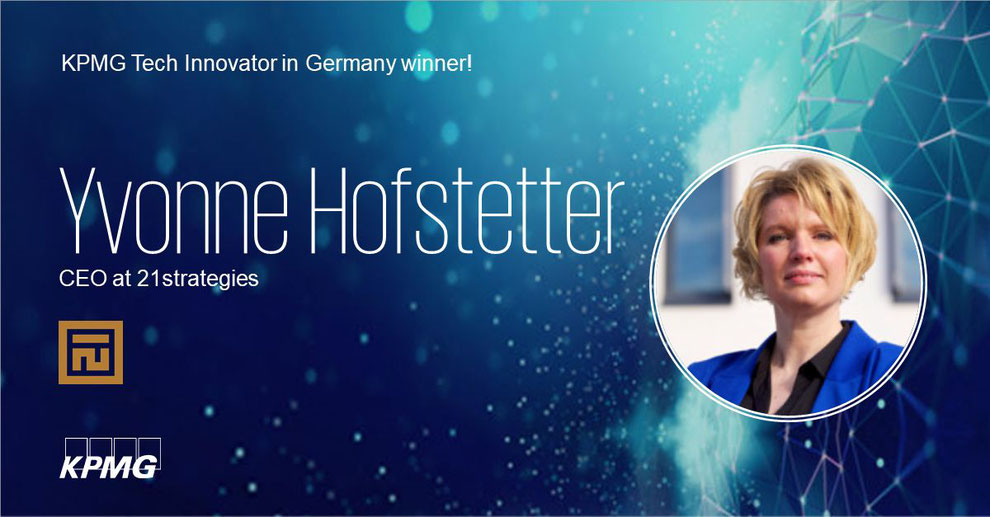 Few things are more challenging than a short 3 minute pitch of a B2B deep tech next-gen AI enterprise. Every pitch deck of whatever detail is a blank canvas which needs to be filled with a fascinating story line which affects the listeners while convincing them of both highly complex and innovative tech stack and market traction.
For a chance to become "Tech Innovator in Germany 2021 ", on September 23, 2021 , KPMG Germany invited finalist companies to present their 3 minutes before a broad online audience and jury of six: Robin Tech, delphai; Felix Swoboda, Liberty Ventures; Tim Miksche, AUDI Denkwerkstatt; Tim Dümichen, Dr. Ashkan Kalantary, and Stefan Kimmel, the three latter all KPMG group. The jury had a clear tasking: give votes for innovation, market potential, traction, potential and pitch quality.
"We want to recognize today's leading tech innovators on a local and global scale. The inaugural KPMG Private Enterprise Tech Innovator competition will recognize Germany's leading tech innovators and future tech titans", KPMG explains their motivation for the contest.
Driving the news: 21strategies was nominated winner of the contest, pointing to their cognitive Enterprise AI for systematic strategic and tactical decision making. Products target both corporate treasuries and governments.
"21strategies was started to transform how organizations make tactical and strategic decisions in a complex and dynamic environment", states Yvonne Hofstetter, female co-founder and CEO at 21strategies. "We provide a class of Artificial Intelligence which helps people better navigate uncertainty. In fact, what we build and operate is the core of full technological autonomy. Gaining notable traction from capital market participants and security agencies alike, and to be recognized by KPMG for these efforts is a huge honor," she adds. And how does it feel waiting for the votes?
"I have pitched c. 150 times this year, mostly to US and UK investors. It's fun making all these connections online and via Zoom or Webex or Teams, but I much more love to appear before my audience physically."
Secure networking of industrial processes is the business case of second-placed Intranav. Their target market: Manufacturing companies. The firm impressed with a sound traction and a list of renowned German manufacturers.
IoT ecosystem player Core Sensing made it to the third place. Equipping machines with sensors is the core business of the IoT company with the aim of detecting errors before they occur, also known as Predictive Analytics. To energize its sensors, the company has applied for a patent to harvest power from kinetic energy of the machinery monitored.
21strategies will travel to Web Summit 2021 in Lisbon and compete against winners from 15 other countries for the title of KPMG Global Tech Innovator 2021.
About 21strategies
21strategies is a B2B deep tech company. We leverage AI for strategic and tactical decision-making in uncertain and complex situations. To aim at our mission, we build and operate our flagship AI hedge21® for corporate treasuries to counter currency and commodity price risks and swarm21 for national security. We develop long-term strategic partnerships with organizations to grow profitably. The Founders' vision is to transform how organizations make decisions and to establish the golden standard for the optimal control of uncertain environments. Learn more about our journey by visiting 21strategies.com or following us on LinkedIn.
Press contact:
Tanja Zimmermann
21strategies