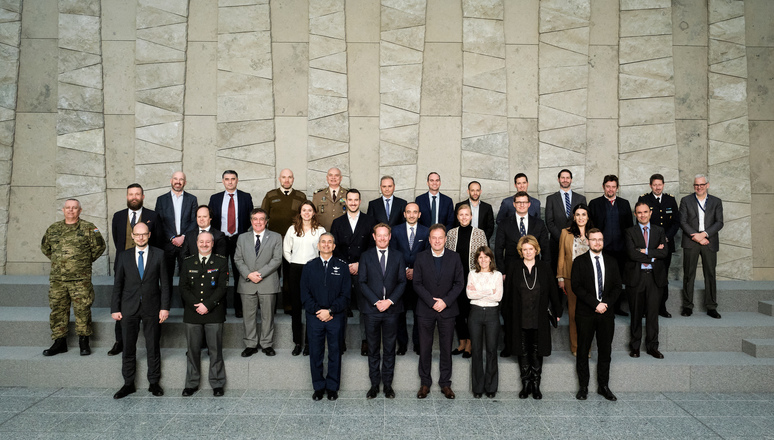 NATO's Data and Artificial Intelligence Review Board (DARB) is playing a key role in shaping the responsible and user-friendly implementation of artificial intelligence (AI) within the Alliance.
On June 21, 2023, the DARB met to discuss the first drafts of a user-friendly certification standard initiated by its "Standards and Tools" subgroup. Chaired by the United States, the subgroup considers tool-based approaches and, in addition, process-oriented approaches, similar to standards used in common engineering practices. By mid-July, the DARB's national delegates expect to review the first draft of a NATO certification standard.
Exploring Generative AI for NATO
On June 22, the DARB received a panel briefing on generative AI and its potential impact on NATO to weight the capabilities and limitations of generative AI. While industry reflects that the term "generative AI" may not fully encapsulate the comprehensive potential of a further evolving technology stack, industry must also acknowledge that the limitations of the current AI stack in reasoning and planning cannot meet critical functions required by the military, and that the current evolving AI trends towards (multi-) agents have been the focus of the Distributed AI research programs AgentLink I-III already during the late 1990s.
NATO's planned AI certification standard pays into digital transformation
The development of an AI certification standard is intended to promote NATO's Principles of Responsible Use, which were adopted in October 2021 as part of the Alliance's first AI strategy. The goal is to translate these principles into practical checks and balances that include governability, traceability, reliability, and data use. The standard is expected to be finalized by the end of 2023, ensuring that new AI and data projects comply with international law, NATO norms, and values. In doing so, NATO aims to foster trust within the innovation community, operational end users, and the general public.
The composition of the Board reflects a diverse range of expertise, including nominated representatives from Allied countries and Sweden, as well as NATO experts. This collective includes lawyers, engineers, military personnel and ethics experts. Beyond its certification mandate, the DARB serves as a unique platform for sharing best practices, guiding innovators, and supporting operational end-users throughout the development phase. The collaborative efforts of the DARB contribute significantly to NATO's ongoing digital transformation, as evidenced by the piloting of AI in areas as diverse as cyber defense, climate change, and imagery analysis.
By 2030, NATO's vision for digital transformation aims to enable multi-domain operations, ensure interoperability, improve situational awareness, and facilitate data-driven decision making. NATO's AI strategy, data exploitation framework policy, and efforts in emerging and disruptive technologies play a critical role in making this vision a reality. Priority areas endorsed by defense ministers include advanced data analytics for multi-domain operations and situational awareness, as well as the approval of NATO's first Autonomy Implementation Plan.
As NATO advances in AI, DARB's development of a comprehensive AI certification standard reinforces the Alliance's commitment to the responsible and safe use of AI in accordance with international legal frameworks and NATO's core principles.