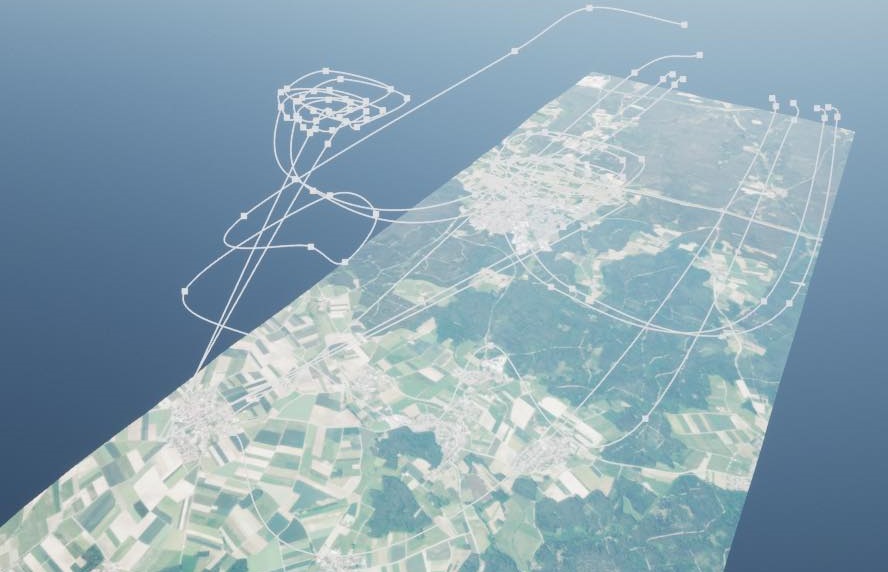 Digital twin of a real world region with flight traces of aircrafts. Built with Unreal Gaming Engine.

The Unreal Gaming Engine is one of the most powerful and versatile game development tools on the market today. Developed by Epic Games, the engine has been used to create some of the most popular games of recent years, including Fortnite, Gears of War, and Rocket League.
Building Third Wave AI-based Serious Game with Unreal Engine to Showcase Tactical AI Behavior in Simulated Military Environments
21strategies, a leading B2B deep tech company, is building a Third Wave AI-based serious game called GhostPlay using the Unreal Gaming Engine to integrate 21strategies' tactical AI with the digital twin of a battlefield to showcase tactical AI behavior in a simulated environment. By leveraging the engine's physics and graphics capabilities, 21strategies' GhostPlay team can create realistic military simulations to visualize and understand tactical AI in a safe and controlled environment. Ultimately, GhostPlay will be used as a training environment to educate operators and officers facing AI-based adversaries, as well as a tool for acquisition agencies to make informed decisions about the intended capabilities of new and AI-based assets being purchased by the defense industry. With its stunning visuals and advanced physics capabilities, the engine is the perfect tool for creating an immersive and engaging digital twin experience that will challenge and inspire users. The engine's advanced features allow developers to create highly detailed character models and complex gameplay mechanics, as well as integrate 21strategies' proprietary Third Wave AI. 21strategies' tactical AI and military simulations built with the Unreal Engine are critical to national security, enabling safe and controlled testing of military strategies and tactics. These simulations use 21strategies' next generation AI algorithms and the engine's powerful capabilities to create realistic scenarios that provide military personnel with accurate training and a better understanding of potential threats.
Become part of the team
To further the development of GhostPlay, 21strategies is looking for experienced Unreal Gaming Engine experts to join the team. You will work closely with our senior scientists to create immersive and engaging user experiences that push the boundaries of what is possible in the industry. Want to join 21strategies?