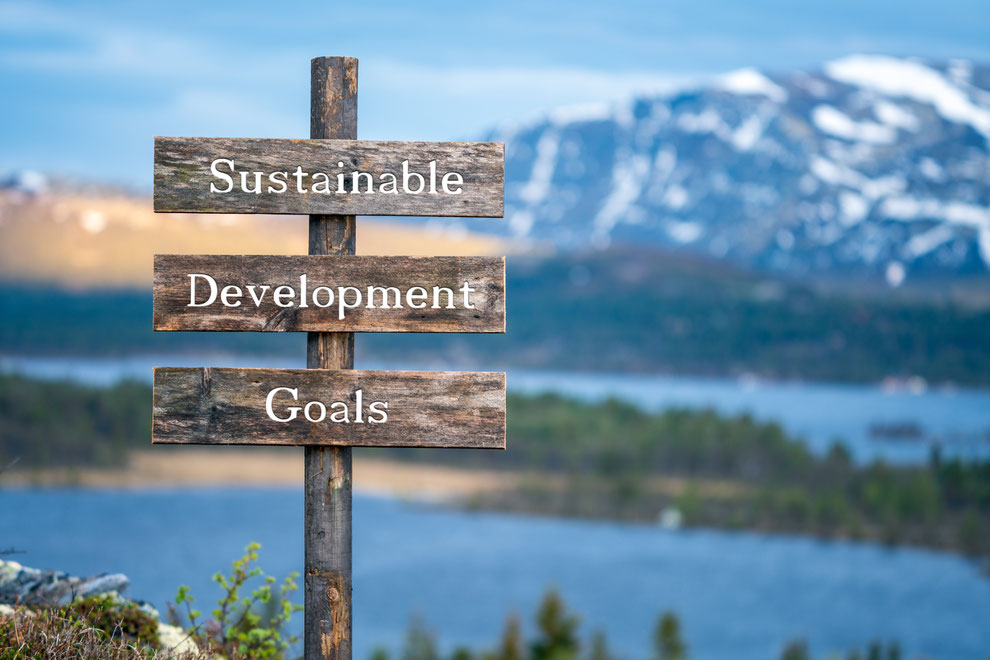 Artificial intelligence (AI) and sustainability – is that even possible? AI requires enormous computing power. It requires a large number of servers. Of course, this does not contribute much to climate protection. For example, 21strategies, a tech company that provides Artificial Intelligence for organizations, uses server providers that use ecologically generated electricity and combine this with water cooling in the ocean. However, Sustainable AI is understood to be an initiative that is about more than just protecting the environment. Rather, it is about incorporating societal and environmental considerations into the design, development, and deployment of AI systems across the entire lifecycle. AI can thus contribute to improved resource allocation. Properly deployed and used, AI can help address various challenges of our time.
Artificial intelligence to achieve the Sustainable Development Goals (SDGS)
The achievement of Artificial Intelligence can be measured using the Sustainable Development Goals (SDGs) as a benchmark. These political objectives of the United Nations came into force in 2016 with a term of 15 years. The main objective is to ensure sustainable development worldwide at the economic, social and ecological levels. It is important to note that these objectives apply to all member states. The priority is to end poverty, conserve natural resources and achieve peace and prosperity. The study by Ricardo Vinuesa, shows to what extent AI can contribute to the achievement of the SDGs and in which areas it can also increase negative impacts. The study was published in the Springer's journal Nature Communications. According to the study, AI can contribute to the achievement of nearly 80 percent of the SDGs. In comparison, negative impacts of AI can arise in over 35 percent of the goals. Artificial intelligence can thus amplify positive impacts on the one hand as well as existing disadvantages on the other. This duality of impact can be seen, for example, in the identification of poverty areas and the analysis of satellite images for international measures. At the same time, artificial intelligence can also lead to additional qualification requirements for each job. This contributes to the reinforcement of imbalances.
Artificial intelligence and its contribution to societal goals
In the area of societal goals, AI can potentially contribute to over 80 percent. Whereas nearly 40 percent of societal goals can also be negatively impacted by the use of AI. For example, AI can be used to assist in providing food and water, energy, and health to the population. Smart cities and circular economies can use resources efficiently while supporting low-carbon systems themselves. Technologies integrated into an overall AI environment are able to match electricity demand for autonomous electric vehicles and smart appliances to the demand situation.
Artificial intelligence and its contribution to ecological goals
In the area of ecology (climate protection, life under water and life on land), artificial intelligence can have a positive impact on more than 90 percent of the goals and act as an enabler, according to the study by Ricardo Vinuesa. For example, climate change impacts can be better analyzed and specific countermeasures taken through networked databases and various models. AI can have similar positive effects in the area of environmental monitoring and potential pollution. Algorithms can be used, for example, to automatically detect oil spills. Similar approaches can be used to prevent and respond to desertification. Vegetation cover types can be determined based on satellite imagery. Based on this, environmental planning and also a management of agricultural land can be supported. In this way, AI can be used to improve biodiversity monitoring and conservation. At the same time, artificial intelligence and its training in particular consume enormous amounts of energy. This has an even more serious effect when, in addition, ecologically generated energy is not used.
Artificial intelligence and its contribution to economical goals
Artificial intelligence can have a positive impact in the area of economic development. In Ricardo Vinuesa's study, AI is seen as an enabler in 70 percent of the SDG economic targets. This is countered by around 30 percent negative impact. Artificial intelligence can lead to significant financial savings and optimal use of resources in the industrial sector, for example. An important example here is sustainable supply chains optimized with artificial intelligence. In many different areas, untapped potential can be uncovered and lead to additional economic growth. However, this is also countered by negative effects. Particularly at the economic level, imbalances can be exacerbated by the use of artificial intelligence. Complex AI-based systems, for example, are predominantly available to industrialized countries. Whereas low-income countries do not have access to them. Likewise, within countries, a shift from simple tasks to more demanding activities can also lead to inequality.
What importance does AI have at 21strategies?
21strategies' technology is already used to support organizations in the optimal allocation of resources. The focus here is in the areas of: supply chain, capital markets, and national security. Furthermore, the developed algorithms follow ethical standards from the beginning. Thus, the developed algorithms of 21strategies directly follow the consideration of ethical requirements in the development and thus also in the application. However, Sustainable AI also plays a major role. 21strategies uses data centers that use ecologically generated electricity. The cooling of the computing center also follows these principles. Thus, 21strategies also contributes to more Sustainability AI through technology.
Find out on our website how we can contribute to an optimal use of resources within your organization.