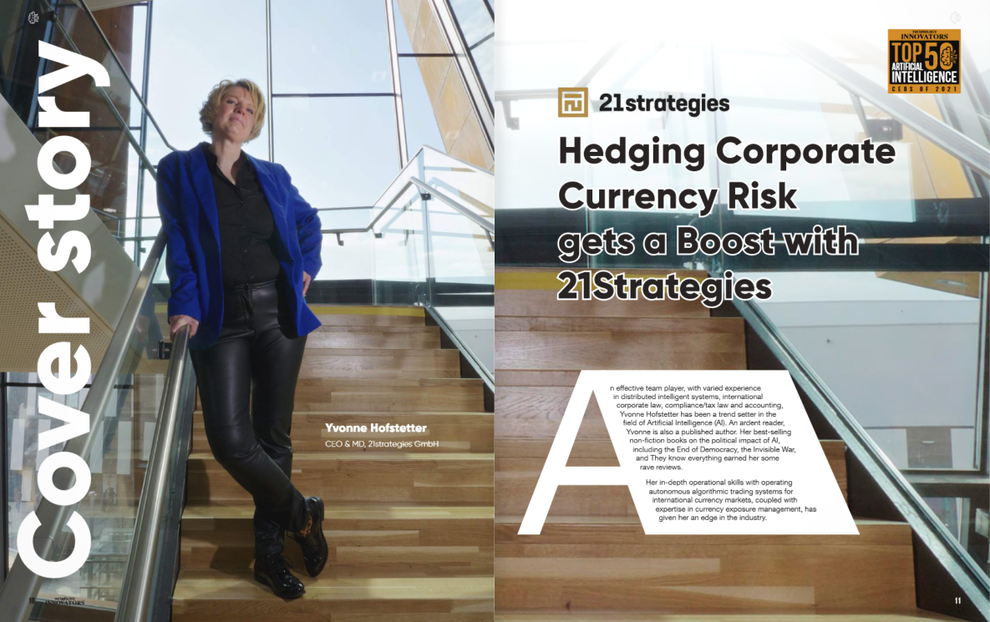 Image: Heimo Aga, Text: Technology Innovators 2021

The US magazine Technology Innovators has chosen Prof. Yvonne Hofstetter as one of the top 50 AI CEOs 2021. Hofstetter is CEO and Co-Founder of the startup 21strategies, which uses next-generation artificial intelligence to optimize decisions under uncertain conditions in organizations. Read the full cover story here.
Prof. Yvonne Hofstetter – CEO and Co-Founder in Deep Tech
The focus of the US magazine is to track down and report on new technologies, their impact on the respective field and the team behind them. The combination is key. Good technology relies on a leadership team to drive it forward and vice versa. Only if both are given a startup can survive on the market in the long term and the technology can unfold its benefits. One of these CEOs is Yvonne Hofstetter. Thanks to several years in relevant positions in deep tech companies, she is very familiar with this field. Evaluating a technology, driving it forward and successfully placing it on the market have already been her tasks over the past years. In addition, she knows the technology not only from an application perspective, but also from a research perspective. She is an honorary professor in the field of digitalization and society at Bonn-Rhein-Sieg University of Applied Sciences. While sharing her knowledge and experience with gifted students is one of her passions, she gives top students also the opportunity to contribute to topics relevant to 21strategies.
21strategies – artificial intelligence for decision optimization
The advantage of the technology lies in its broad transferability or range of applications. Optimizing decisions in organizations is always present. For a large part of the decisions that are made in the organizational environment, usually the external circumstances are only partially known. This is part of daily business. Decisions, even of a long-term nature, still have to be made. What is the best way to proceed here? What solution does the technology of 21strategies offer? The startup uses next-generation artificial intelligence. Decisions can be optimized based on a strategic-tactical approach. Thus, the technique is reminiscent of the course of a strategic game. At strategic games, players must develop their individual strategy. Each move must be adapted to the behavior of the other player - and often also to chance. There is always the uncertainty of how other players will behave and decide. All this must be put into context in the shortest possible time. 21strategies transfers this basic idea to the capital market, the commodity market or support government organizations by using next-generation artificial intelligence.
The November 2021 edition of Technology Innovators' Top 50 AI CEOs is available both as a print and online version. Find out more about our CEO Yvonne Hofstetter from the magazine's cover story and interview conducted with her earlier this year.
PDF download link: Cover Story
Listing Link: Top 50 Artificial Intelligence CEOs of 2021
Profile Link: 21strategies