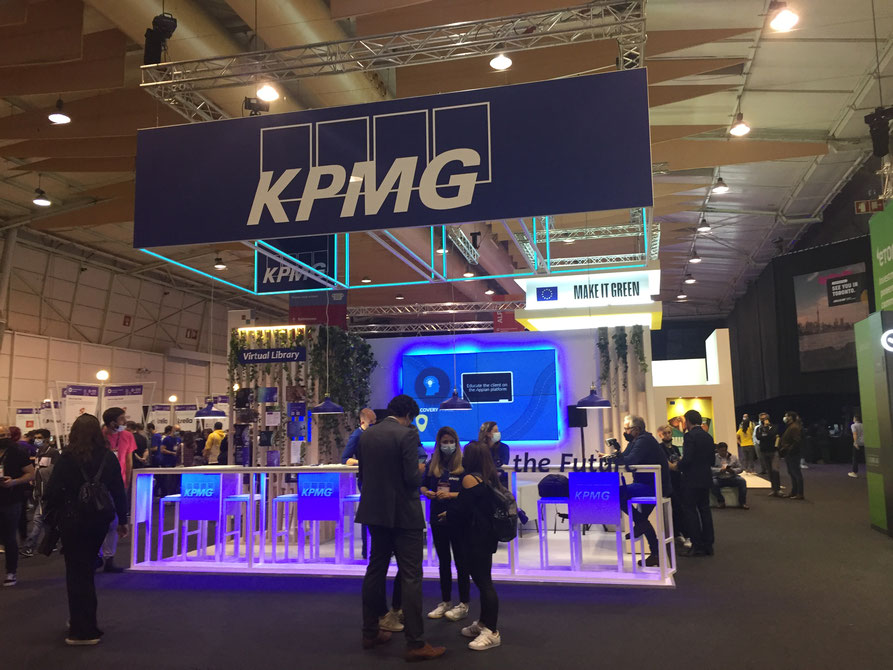 Over 40,000 participants attended the Web Summit 2021 in Lisbon. Attendees came from nearly 130 countries to connect, share, and network. Well-known personalities contributed and shared their knowledge in more than 1300 presentations. Main topics such as artificial intelligence, climate change, crypto or diversity and inclusion gave a broad impression and confirmed the diversity.
As the winner of KPMG's "Tech Innovator in Germany 2021", KPMG invited 21strategies to present at its stand. Interested and curious people from all over the world came to our stand and showed interest in our technology. Put simply, our technology is reminiscent of a computer strategy game. DeepMind's AlphaGo or IBM Watson in Jeopardy can react similarly. However, in the latter, the rules under which decisions are made are known. 21strategies, on the other hand, optimizes decisions under uncertainty in real life domains. The use cases are diverse and span capital markets, commodities, and government.
Famous names at the Web Summit: Garry Kasparov, Frances Haugen, and Sir Tim Berners-Lee
Garry Kasparov, an optimist when it comes to technology and artificial intelligence, compares the current development of artificial intelligence with the development of the Industrial Revolution. Machines would have made people faster then, and now they are making people smarter. For him, the responsibility lies with the people themselves, because the real dangers emanate from them, especially from totalitarian regimes. In the area of social media, he conceded that there was too little regulation.
Already on the opening night, the Facebook Whistleblower Frances Haugen urged Mark Zuckerberg to resign. Football legend Thierry Henry also reaffirmed his boycott of social media because he could not support making money from hate. To get a more balanced view, Nick Clegg VP of Global Affairs & Communications at Meta (Facebook) was also added to discussions during the week.
Sir Tim Berners-Lee, for example, is also critical of the direction the Internet has taken. He criticized the increase in isolated systems and massive data collection. Autonomy on the part of the user would be left out. As an alternative, however, he sees a user-controlled data storage service called Solid Pod. He created this service together with a colleague. Access to a data element could be granted or revoked at any time. This could put online data protection on a solid foundation, he said.
You can find defined use cases on our website. Just take a look at our website and get in touch with us.